Last night, the President made his fifth State of the Union address. We were pleased to hear him outline, or at least mention, plans for many of the issues UFCW members wanted to see addressed, but the fight to end the growing inequality and economic hardship for working Americans is ongoing, and we hope the President and Congress will truly act on these plans. We know that we will.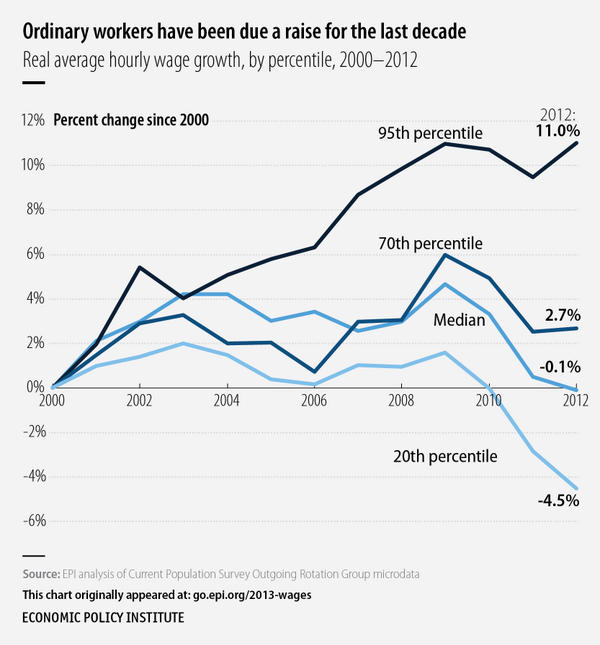 Many of you especially wanted to see President Obama talk about raising the minimum wage, so that more Americans can earn a liveable wage that enables them to make ends meet and provide for their families. He certainly talked about this, and agrees that its time to take action.  As an example, the President said that "profitable corporationss like Costco see higher wages as the smart way to boost productivity & reduce turnover," referring to the fact that higher wages are better for business too.  It's time for mega-retailers like Walmart to follow suit and set a better example for the retail and grocery industries.
Another thing we were relieved to hear was that the President is working on a bipartisan plan to ensure that no one ends up waiting in hours-long lines to vote anymore–in fact the plan would see that there is no more than a 30-minute wait. Voting rights are essential civil rights, and we cannot let states create legislation that will take them away.
Although the Affordable Care Act has a ways to go before it is truly beneficial for everyone, the President also asked Congress to stop wasting time on trying to repeal it–especially when it is working for so many Americans–and instead offer up suggestions or solutions for making the healthcare system better. Chiding, "Let's not have another 40-something votes to repeal a law helping millions of Americans," we agree, but must also keep working to push legislation such as the Part-Time Workers' Bill of Rights, so that companies cannot take advantage of the ACA by severely cutting employee hours to eliminate coverage for their employees.
The President added that he is launching a new retirement savings vehicle called "MyRA", to help Americans have more money for retirement, in a time when so many are having to delay or cancel their retirement because they have lost their pensions or had to dip into savings for unexpected expenses in this difficult economy.
Equality was a theme that can be tied to many of the issues touched on in the president's speech, and it was quite empowering to hear him say that, in regards to income equality, it was past time to end the gender wage gap. The fact that women are paid less for doing the same work as men "is an embarrassment," said President Obama. We couldn't agree more!  Referencing the popular 60′s era show Mad Men, the president also called for an end to outdated workplace policies that punish women and men for needing time off to care for sick family members, or to have children.
And it brought a smile to our faces to hear President Obama mention labor leaders, in regards to the their calls for immediate action to fix our broken immigration system. Its time for all workers to have their rights protected, and have a path to citizenship–business leaders agree. Like UFCW members hoped for, the President mentioned labor, which was a good sign, but our members are still awaiting to see action that supports what they work for everyday, and will do more to help rebuild our middle class.
There were many other issues that President Obama mentioned last night, such as more American manufacturing that will create jobs, extending unemployment insurance, and ending political arguments that shut down the government and its functions. Overall, we turned off our TV's feeling inspired and hopeful for 2014, yet we know we cannot rest in our quest to ensure a better life for working Americans, and we will keep working with our communities, politicians, and other leaders to make sure the President and Congress don't rest either.