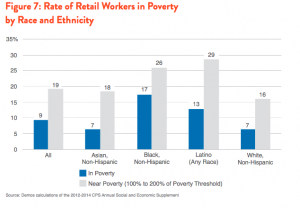 Demos and the NAACP released a  report last week titled, "The Retail Race Divide: How the Retail Industry is Perpetuating Racial Inequality in the 21st Century." The paper examines the differences in retail workers' occupations, earnings, and schedules to reveal how employment in the retail industry fails to meet the needs of the Black and Latino workforce and, as a result, perpetuates racial inequality. As one of the largest sources of new employment in the U.S. economy, and the second-largest industry for Black employment in the country, the problems of occupational segregation, low pay, unstable schedules, and involuntary part-time work among Black and Latino retail staff point to an important chance for employers to make a real impact on racial inequality by paying living wages and offering stable, adequate hours for all retail workers.
The findings show that there is a high demand for workers in the retail industry and finding employment is not the problem for Black and Latino workers. Instead, these workers and their families experience hardships because of the lack of stable pay due to unpredictable hours that fluctuate from week to week, and wages that fall short of meeting a family's basic needs even with full-time hours. These conditions leave nearly one in 10 retail sales workers in poverty, despite being employed. This number is even higher among Black and Hispanic workers who, not only, face prevalent low-wages and unstable scheduling practices, but the additional obstacles of racial inequality in the labor market.
For a quick breakdown of the jarring statistics from the report, watch below–also available in Spanish.